Save this article. Click here to get this post in PDF
16 Simple Tips To Eat Clean During The Holiday Season
Thanksgiving, Christmas and New year ,  the holiday season is a time to celebrate with family and friends. Unfortunately, for many it also becomes a time for over-eating and weight gain full of high-calorie food, parties, alcohol, and stress. Staying healthy can easily become a challenge and stressful if you are on a whole food diet.
Even if you do splurge on a few items because of the temptation, you don't have to give up eating whole food just because it's the holidays. Follow these 16  simple tips and avoid the stress so you can eat well, feel great, and celebrate the season without feeling guilty or deprived.
The key to enjoying this season is to remember to relax, maintain balance, and stay focused on your long term health goals.
Try the 16 Simple Tips To Eat Healthy And Stress Free During The Holiday Season.
Keeping Your Family on Whole Foods While Traveling
Another thing that might come up during the holidays when you are sticking to a whole foods lifestyle is having to travel. You may be traveling to your parent's house for the holiday season , but find the trip itself to be a little bit complicated with your diet. Here are some tips for getting through the trip while keeping everyone on the whole foods diet.
Eat a Meal Before You Leave
A good way to start your trip is to have a whole foods meal at home before you leave. This will let you have a filling meal that includes all the whole foods you allow your family to eat. If you are leaving early in the morning, then you might want to prepare a breakfast casserole the night before and leave it in the refrigerator to heat up quickly in the morning. Try to wake up earlier so your family has enough time to get ready and eat a satisfying breakfast before you leave. This avoids extra trips to fast food or convenience stores when you leave for the trip.
Bring Along Some Snacks
No matter what method of travel you choose for the holidays, you should be able to bring along some of your own snacks. You can usually bring snacks in the car, in your carry-on bag if you are on an airplane, or in your personal belongings when you go by bus or train. Some good whole food snacks that travel well include raw nuts and seeds, fresh or dried fruit, chopped raw vegetables, olives, seaweed, and packs of nut butter to dip your veggies in. There are also some nutrition bars that are approved for the whole food diet.
Book a Hotel With a Mini Fridge
One of the best things you can do is find a hotel that offers a mini fridge. If you are driving on your holiday, you can keep an ice chest in the car that keeps your food cold, then put it in the mini fridge when you get to the hotel. This allows you to bring along some containers of cooked food that just need to be placed in the fridge, then heated up. That way, all the meals aside from the actual Thanksgiving meal can be whole food-friendly and enjoyed right in the hotel room.
Learn How to Eat Out Properly
Keep in mind that most restaurants will have something you can eat on the whole foods diet. It is just a matter of choosing correctly and making the right substitutions. In general, any fish, steak, or chicken main course is going to be safe. Be careful with anything that has sauce or ask for the sauce on the side. For your side dishes, it should be steamed veggies and fresh fruit. A side salad is also a really good option, but also get the dressing on the side.
Cooking For Your Family and Friends That Don't Follow Your Whole Food Lifestyle
One of the struggles with being on a whole foods diet during the holidays is when you spend time with friends and loved ones. You might want to have family over for Thanksgiving or other events around this time of year, but you also want to cook foods your own family can eat for Whole food or Paleo diet . While it does take some extra planning, it is possible to cook a meal that everyone is happy with.
Start With Dishes They Would Eat Anyway
There are some dishes for Thanksgiving that your non-whole food diet friends and family would be eating whether they were on this diet or not. Make a list of those food items and make sure to include them on the list. Your family will be familiar with these foods, so it will feel just like any other year end celebration dinner to them.  This of course begins with the main course of turkey, as well as ham or chicken if your family likes serving that instead. Some of the vegetable side dishes are also not changed, such as if your family has a tradition of serving butternut squash salad or sautéed Brussels sprouts.
Do Different Variations of Classic Thanksgiving Dishes
The next thing you can do when you are cooking a Thanksgiving meal for your family is to think of simple variations of the dishes your family will eat. There are quite a few different variations that will keep them happy and will also be within the whole foods diet for you.
One example is to make a cauliflower rice stuffing instead of regular bread stuffing. You will start by making cauliflower rice by using a head of cauliflower that is put into the food processor. You mix in a lot of the same seasonings and vegetables that are in traditional stuffing so that it has the same flavor, such as onion, celery, sage, basil, clove, salt and pepper, and some poultry seasoning. This rice stuffing is easy to make and the final result looks just like regular stuffing. Most people won't notice a huge difference, and even if they do, they still like the taste of it so the regular stuffing isn't missed all that much.
You can also make your own version of pumpkin pie for dessert. Instead of a regular crust, you will use chopped raw nuts along with dates and some cinnamon. The pumpkin pie filling is very similar to regular pumpkin pie, but with a few minor changes. You are going to use homemade pumpkin puree, along with honey, eggs, and coconut milk. You can also add in any spices you like.
Cook Some of Their Favorite Foods
If you are planning a big holiday feast, also have a couple dishes that your guests want but aren't whole food friendly. You can skip these, but let them have their favorites. For example, bake some rolls and offer them with butter, and make some real mashed potatoes.
Easy Whole Food Meal Ideas For Your Busy  Holidays Schedule
When you are running low on time during the Holiday season, it is good to look for meals that are quick and easy to prepare. These foods are not going to take too much time, but perfect for the holidays.
Cook Your Turkey in the Slow Cooker
If you are trying to prepare an actual  feast without a lot of time, consider cooking your turkey in a slow cooker. There are large slow cookers that will fit a medium-sized turkey just fine. Just make sure you have the sizes right. The turkey is the main component of Thanksgiving and Christmas, and is luckily something you can enjoy even when you are on the whole foods diet. Using a slow cooker allows the turkey to cook without needing to be checked all day, and saves you more room in the oven for other dishes.
Try Simple Vegetable Side Dishes
Whether you are making side dishes for Thanksgiving dinner without a lot of time, or you are simply feeding your family during this busy holiday season, vegetable side dishes don't have to be complicated. Brussels sprouts are a great option because they are not difficult to make, are in season during the fall, and can be really delicious with just a few added ingredients. A good recipe to try for Thanksgiving is to sautee them with olive oil, seasonings, and cloves. This makes them nice and flavorful, but not difficult to make. Add some chopped nuts and dried cranberries to the top of the brussels sprouts.
Make Some Fall Soup
During this busy time of year, soup is the perfect dinner option. For the most part, everything is put into one pot, so you aren't spending a lot of time prepping, stirring, mixing, and baking just to make one dinner. Soup is light and healthy, and easy to make when you are on the whole foods diet. A good soup for this time of year is butternut squash apple soup. It is not difficult to make with diced butternut squash, apples that are peeled and diced, chicken stock, onions, and seasonings.
Simplify the Dessert
For dessert, you don't have to spend a lot of time trying to make a mock pumpkin pie or an apple pie that is approved for the whole foods diet. You can use apples and sweet potatoes to make a simple Thanksgiving desert that won't take you a lot of time. This dessert just asks for sliced apples, sliced sweet potatoes, cinnamon, salt, water, and ghee or coconut oil. It is very quick and easy to prepare.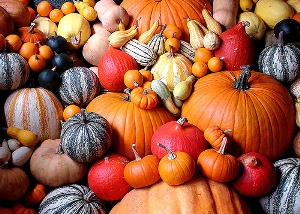 Dining Out While Eating Whole
During the holiday season , you might also find yourself wanting to eat out. This is common when family is visiting so that everyone goes out to eat together. Here are some helpful tips and suggestions for eating out while also sticking with the whole eating lifestyle.
Avoid the Children's Menu
To start with, if you are bringing your kids out to eat, don't let them order from the kid's menu. This menu usually has macaroni and cheese, pizza, and chicken nuggets. None of this is going to be allowed on the whole foods diet. Instead, let them order from the regular menu and just be picky about what they get. They can get grilled chicken strips instead of chicken nuggets from the regular menu.
Go For the Gluten-free Menu
Many restaurants are now offering a gluten-free menu, which will be great for you. On the whole foods diet, you aren't eating grains of any kind, so the gluten-free menu will have a lot of items you can have. While you still might need to make a few substitutions, it is a really good place to start.
Look Up the Restaurant Before Going
It is helpful to know where you are going ahead of time so you can take a look at their menu online. Most restaurants do offer their full menu, and some of them will give you a list of ingredients used. This lets you see if anything is made with a dressing, sauce, or seasoning that you don't want to have on your whole foods diet.
Get Your Chicken Grilled
When you are ordering chicken at a restaurant, always look for grilled chicken. This is usually safe since it is not fried and doesn't contain any type of breading on top. Once again, be careful about sauce, since some grilled chicken dishes use a sauce. Instead, some safer options are grilled chicken with salsa on top or simply served with veggies on the side. If it is served with veggies and rice, ask for double veggies.
Go For Steak and Seafood
Steak and seafood restaurants are usually safe for a whole foods diet. You can order your steak or seafood, but skip the butter, heavy sauce, French fries, and baked potatoes. See if they have sweet potatoes you can have instead without any butter added to it.
It can be intimidating to try to stay whole when you are outside of the comfort of your home. And if you aren't careful, dining out can easily throw you off of your whole food lifestyle. Following these simple tips will help you to have a stress free dining experience.